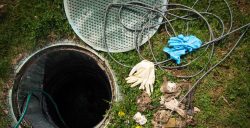 If the time has come for your septic tank to be cleaned or you need to inquire about portable toilet rentals for an upcoming event, Fullmer Sanitation LLC is ready to answer the call. As a local leader in sanitation services, we take pride in providing our customers with steadfast service that's prompt, thorough and honest.
Get Sanitation Services
Reach out to us for a free estimate on services and know that we'll stand by our quotes, providing services you can rely on.
For more information about septic tank pumping or portable toilet rentals throughout Delta, Provo and surrounding areas of Utah, please fill out the form.